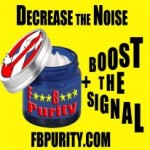 So it seems like Facebook's legal department must still be on holiday, (or they are buried under paperwork from all the people who are trying to sue them)  as I've not heard anything back from them regarding my queries about their announcement, regarding my supposed ban from Facebook.
I would like to thank everyone for their messages of support and also a big thanks to those who have donated. It seems clear to me that Facebook's users do want to have the option of controlling what gets shown in their own browsers, so I will continue to work on FBP.
In the meantime I've been working on a new update to F.B. Purity, its in Beta at the moment, and if you are ok with Beta software, you can find out more and get it via the FBP Beta page https://www.facebook.com/puritytest/
In my own testing, it seems to be working fine, but before I do a full release, It would be nice if some people could try it out, to see if i've missed anything. Will probably do a full release of this version in the next day or so.
Developing F.B. Purity has been a struggle from the start, Facebook are continually throwing up obstacles, but with your help I won't let them stop me.
If you support freedom of the internet, support F.B. Purity, as it gives you freedom from having to view the junk that facebook wants you to see.
Please donate and support the cause: https://donate.fbpurity.com
Also help spread the word about F.B. Purity, tell your friends,  share, like and comment on this post / image,
Thanks,
Steve