As you may have heard Facebook are introducing a new look to the Newsfeed. According to my investigations this roll-out of the new design is going quite slowly, as they announced the new design in March, yet as of today, according to my survey on the FBP fan page only around 7 or 8 per cent of Facebook users have the new design so far.
The new design has a big grey sidebar on the left hand side of the feed and looks like this: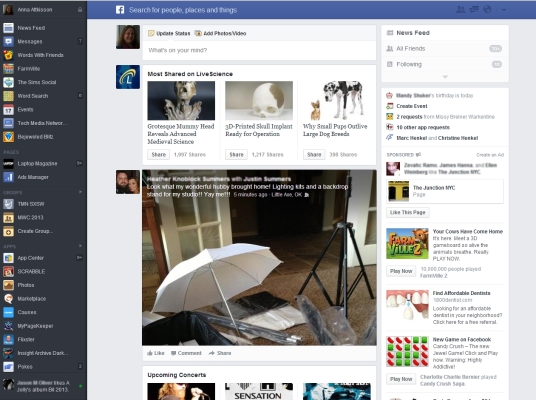 If you do have the new newsfeed, you would have realised by now, that the current release of FB Purity (v8.3.0) is not compatible with the new design. *UPDATE* the latest version of FB Purity does indeed work with the new newsfeed design. Update  to the latest version of FBP at http://install.fbpurity.com
However I 've been working on a new beta version of the FB Purity extension that should work with the new design. According to user feedback, its working quite well so far. If you would like to try it out you can get it via the FB Purity Beta Test Page
Please double check that you do actually have the new newsfeed before trying this beta, as if you don't have the new newsfeed, it wont work for you.
If you find any issues or bugs, please report them on the FBP Beta Test Page
Cheers,
Steve