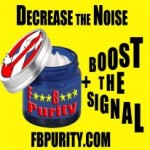 Do you use FB Puritys application blocking function? If so you may have noticed that it has stopped working, due to a Facebook code change. I've updated FBP's code so that it works again, if you want the fixed version, just clear your browser cache, and re-install via https://fbpurity.com
I havent updated the version number, so it will still say v7.9.6 once installed, but you will find the application blocking function will be working again. The reason i've not updated the version number, is I dont know whether many people make use of this function, I certainly havent had many reports from users that it has stopped working.
Facebook are squeezing Facebook page owners for money, they have stopped showing all Page updates to their fans, unless the page owners pay them money. If you want to see all the updates from this page, you can get around this in one of 2 ways, first is to subscribe to the following Interest List: FB Purity News: https://www.facebook.com/lists/10151100036991927 that should make sure that posts from this page appear in your newsfeed.
The second option is even better, as it actually gives you a notification whenever theres a post from this page. To enable notifications when this page posts an update, go to the FBP Fan Page  and hover over the "Liked" button, then select "Get Notifications". I only update this page, when theres some important news, so theres no need to worry about getting too many notifications.
The reason its important to follow this page, if you are an FB Purity user, is that Facebook update the code on their site very often, and it often breaks parts of FB Puritys functionality. Through this page I will keep you informed of any such changes, and also of when I have managed to fix any breakages, or have developed new versions with new functions etc.
In future versions i will give the option for you to add the Interest List and the option to get notifications from this page, when you install FBP, to make the process simpler.
Please support FB Purity by donating: https://donate.fbpurity.com
Please also tell all your friends about FB Purity too,
Thanks  and Best Regards,
Steve