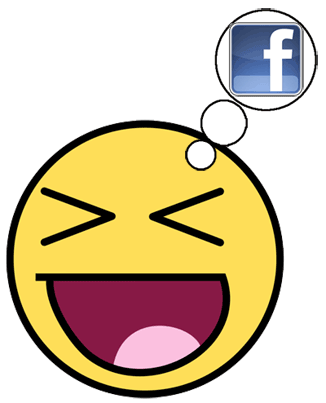 Facebook has now started replacing text smileys with graphical emoticon icons in Facebook comments.
The full list of smiley text codes you can use on Facebook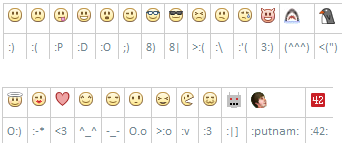 *Update* there is also a mini icon for "thumbs up", just type (y) to display a "thumbs up" icon. Believe it or not, theres also a mini icon for "Poop" just type in :Poop: in a comment and a gross icon of some poop with eyes is displayed.
The text codes should work in both facebook comments and facebook chat too.
How to revert graphical smileys back to text smileys in Facebook
If you don't want to see the smiley graphics and would instead like to go back to having just the plain text smileys, you can do it by installing the latest version of the F.B. Purity web browser extension.
FB Purity has a built in option for hiding Facebook smileys / emoticons / stickers, you just need to open the FBP options screen and tick the "hide smileys / emoticon graphics" option, then click the "Save and Close" button.
FB Purity is a popular, safe and very highly rated web browser extension, that has been reviewed in publications such as The Washington Post, CNET, Lifehacker and PCWorld.  It is designed to clean up and customize Facebook, you can install it and find out more about it here: www.fbpurity.com
*UPDATE 12th Jan 2013* – Facebook now has even more emoticons, that you can access via the "Facebook Messenger" application, you can send them in chat and in Facebook messages (Facebook mail). These graphics include skulls, roses and many other images, that do not have text equivalents.
*UPDATE 29th Jan 2013* – Ive included a built in option to the FB Purity browser extension for hiding the smileys / emoticons now, so you no longer have to use the previous Custom CSS code solution.
*UPDATE* The hide emoticons option in the latest version of F.B. Purity, now also hides "Stickers" in chat.
Get the latest FB Purity via the install page on the F.B. Purity website : https://www.fbpurity.com