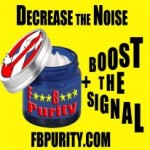 Happy Holidays everyone! I hope you had a good year, and that 2013, will be even better for you, your friends and and family, and one one not impeded by Facebook's insistence on trying to destroy F.B. Purity,  and thereby  force you to use their unfiltered and uncustomized interface.
Keeping the F.B. Purity project going has been an ongoing struggle, what with the obstacles that Facebook try and throw up at every opportunity, I sometimes wonder if its worth all the effort involved, though the overwhelming show of support from the users of F.B. Purity  and especially their generous donations, in this troubling time, help me keep going with it.
Facebook, for their Christmas, were probably wishing Santa and his elves stick me an orange jumpsuit and drop me off at Guantanamo Bay. Im pleased to inform you all, that this has not happened yet, though i will be listening out for the stomp of reindeer hoofs on the roof tonight ;-)
It seems like Faceboook's legal department broke up for their holidays early this year, as although they have said I am banned from Facebook, they have not actually enforced the ban as of this writing. I have forwarded their emails on to the Electronic Freedom Foundation ( http://eff.org ), who said they will look into the matter for me. I am looknig forward to hearing what they have to say about the case, and I will most likely be contacting the various other lawyers that got in touch with offers of help too at some point, to get further legal advice on this.
My own personal Xmas wish is that Facebook will unblock my domain name, and remove the lies they are spreading that F.B.Purity is "spammy and unsafe", and stop hassling me with legal notices and threats of being banned from Facebook.
In case Facebook do enforce their ban on me and the F.B. Purity fan page, its essential that you are able to stay informed of F.B. Purity news and updates. You can do this via the following services:
Google Plus: FB Purity News on Google Plus
Twitter: FB Purity News on Twitter
Email: FB Purity News Email List
Thank you for all the support you have shown over the draconian stance Facebook has taken towards me and the Fluff Busting Purity browser extension.
In particular I would like to thank the very kind people who have donated to support the work thats been put into keeping this project going, and ensuring its survival into the future.
If you can afford it and appreciate the amount of work that is involved in developing, maintaining and supporting F.B. Purity and keeping this project up and running, theres never been a better time to donate, which you can do via this link: https://donate.fbpurity.com
Peace and Love to everyone!
Cheers,
Steve
F.B. Purity
P.S. I will hopefully have some very exciting news to announce, some time early in the New Year, stay tuned for more details.