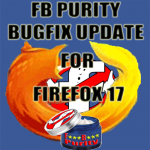 Important news for users of the Firefox version of the FB Purity browser extension. A new "stable" version of the Firefox web browser is being released today – 2oth November 2012,  Firefox 17, which is not compatible with the current version of FB Purity. Once you have Firefox 17 installed, the current version of FBP will completely stop working.
You'll be glad to hear, I've come up with a fixed version of the Firefox extension that is compatible with FF17, so its probably best to install it now, before you update your browser to FF17. Though installing the fixed version after installing FF17 will work too.
To get the fixed version of the Firefox extension, just Re-install FB Purity via the FB Purity website ( If you dont use the Firefox extension version of FB Purity, theres no need to install the updated version )

N.B Please note that the new version is no longer "restartless" which means you will need to restart your browser after you install it. Its also no longer compatible with the Seamonkey web browser, but Seamonkey users should be able to use the GM Script version of FBP.